How do I return an item?
COOKSONGOLD FREE 180 DAY RETURNS
Returns with Royal Mail Printerless Returns
You can now create return labels, even without a printer!
---
Creating your Return Label via Royal Mail couldn't be simpler.
---
Follow these simple steps
Step One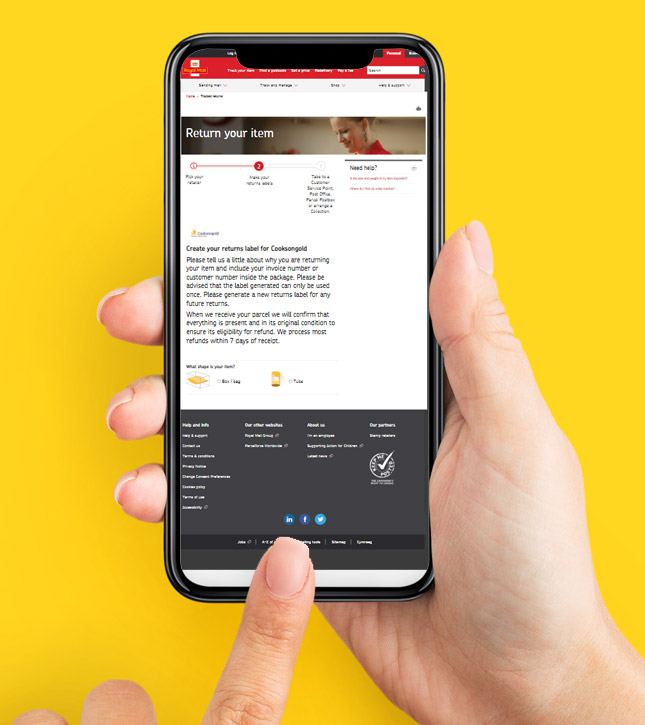 Go to the Royal Mail Track Your Return portal. Choose if your item is a in a Box/Bag or tube.
Step Two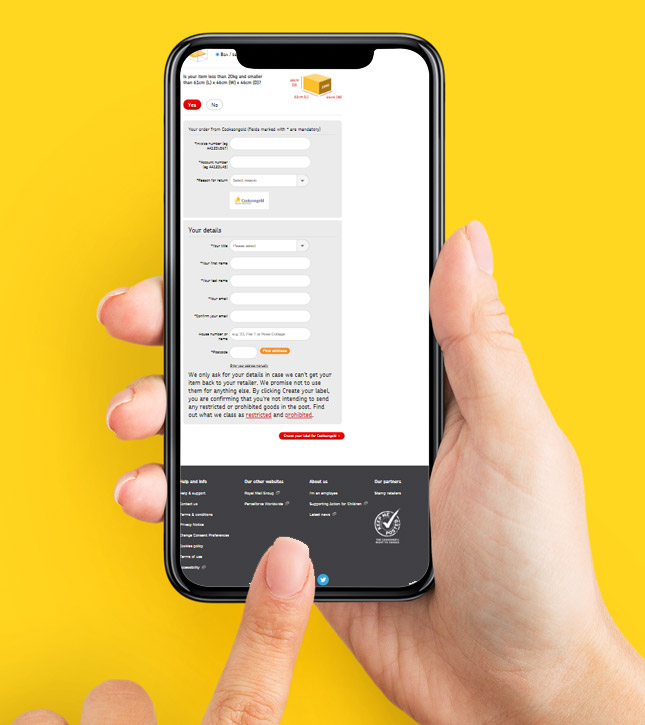 Your parcel must weigh less than 20kg and be smaller than 61cm (L) x 46cm (W) x 46cm (D). If this does not apply, please contact us.
Step Three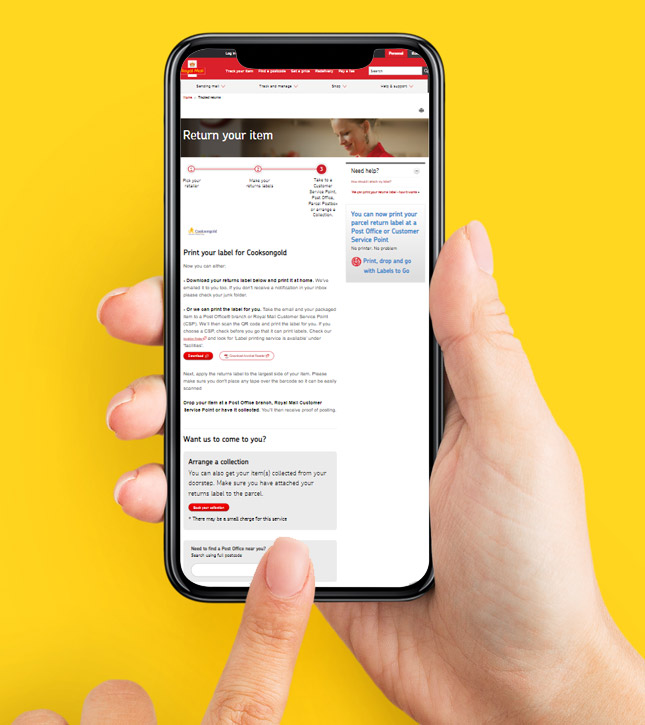 Fill in the required details and click Create Your Label for Cooksongold. Your label/QR code will be emailed to you. At this stage you can also choose to have your return collected (additional charges may apply) or find your nearest Post Office to drop your parcel off.
---
Refunds will be processed within 7 working days of receipt of your items.
Please remember to keep the Proof of Postage Certificate. If your parcel gets lost on the way back to us, we will need to obtain a copy of this to issue a refund/exchange. To return items from multiple orders you'll need to create individual returns and send them back in separate parcels.
If your order is over 20kg, larger than 61x46x46cm or is on the list of Royal Mail prohibited items, please contact our Customer Service team on 0345 100 1122 or send us a message for alternatives.
International Returns Details can be found here.
---
Terms and Conditions
Returned goods will be credited if returned in their original condition and packaging
For special order items, such as bespoke cut bullion or 3D Printed parts, please see here
For health and safety reasons, we are unable to accept the return of piercing-related products (such as ear posts, earrings or hook wires) and PPE equipment (such as masks or gloves)
Goods accepted for return will be credited at the price on the date of invoice
We will only refund return postage for goods not required if returned in less than 180 days
If the Royal Mail Returns is used and the return is over 180 days, we will deduct the cost of the label from your refund
If you are returning an item due to a fault of ours, we will always refund postage charges but would ask that you use the Royal Mail Returns process as above or allow us to select the return method
We will not refund any fees or charges relating to the Royal Mail Collection option
QR Code Print Return Label Service may not be available at all Post Office locations
If you request a refund, this will be normally processed within one working week
---
Related Queries Include:
Item is faulty or has developed a fault >>
Return of items more than 180 days old >>